Boston
Capital of the US state of Massachusetts
Boston is the largest city in New England and the unofficial capital of the region. Boston is one of the oldest cities in the United States and has a rich cultural heritage. Irish and Italian immigrants in particular have shaped Boston.
Boston
state

massachusetts

resident
height

43 m

no tourist information on Wikidata:
location

Boston
In education, Boston is one of the top performers in the United States, with many internationally renowned universities, such as Harvard University or MIT, based in Boston, and around the world. Boston, or the Greater Boston area, is also home to several companies, such as Gillette, Converse or Dunkin's Donuts. In sporting terms, Boston is well known for its American Football Team, the New England Patriots, and the Boston Celtics basketball team.
district
Boston is divided into the following neighborhoods:
Allston and Brighton (Allston-Brighton, All-Bright)
Back Bay
Bay Village
Beacon Hill
Charlestown The district, located between the Charles River and the Mystic River, was the traditional home of Boston Navy Yard workers and employees. Since the naval shipyard was closed in 1974, young families in particular have moved to the area. The naval yard itself was taken over by the National Park Service and is now part of the Boston National Historical Park.
Chinatown
Dorchester (Dot)
Downtown The Downtown is one of the oldest districts in Boston and is divided into the Neighborhoods North End and Chinatown. Although the population of the city's neighborhoods has been mixed over time, the origins of immigrants are still clear. In the North End, which was mainly populated by Italian immigrants, there are still many Italian restaurants. In Chinatown there are many restaurants offering delights from the Far East.
East Boston (Eastie) Today, the East Boston district is mainly known by Logan International Airport. In the past, however, the shipyards in this part of the city were the most important industry, so East Boston was one of the most important destinations for immigrants from all over the world. This can still be seen in the wide range of international restaurants and bars. Also the family of John F. Kennedy lived in this neighborhood after she emigrated from Ireland.
Fenway Kenmore (The Fens, Kenmore Square)
Hyde Park
Jamaica Plain (JP)
Mattapan
mission Hill
North End
Roslindale (Rozzie)
Roxbury
South Boston (Southie) The South Boston district is dominated by Irish immigrants. In recent years, this district has been home to top-class restaurants and hotels and has been joined by modern buildings such as the Institute for Contemporary Art and the Boston Convention Center. But, despite change, the influences of Irish immigrants are still visible and palpable.
South End
West End
West Roxbury
background
arrival
By plane
42,363056-71,006389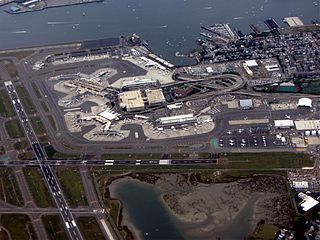 3 Logan International Airport         (IATA: BOS) is the airport of Boston. It is located in the northeast of the city and is connected to it via the Silver Line (bus). The downtown can be reached in about 20-30 minutes by car.
Logan International Airport is one of the 20 largest airports in the United States with more than 38 million passengers a year and can be used to fly to many destinations in the country. The low-cost JetBlue line has a hub here, and Delta Air Lines also offer numerous connections. Many international airlines also have the airport on their network. Lufthansa flies directly from Frankfurt (FRA) or Munich (MUC) to Boston from Germany; Swiss offers direct flights from Zurich. Other useful connections from Central Europe can be with British Airways via London, Air France via Paris, KLM and Delta via Amsterdam or with Iberia via Madrid.
by train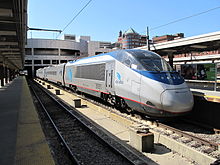 Amtrak trains connect Boston with New York City, Philadelphia and Washington, D.C. The high-speed train Acela Express takes 2 hours from New Haven (Connecticut), 3½ hours from New York, 5:15 hours from Philadelphia, 6:45 hours from Washington Northeast Regional trains on the same route, but longer driving times and less comfort. The Lake Shore Limited links Boston overnight with the Great Lakes Region: Buffalo (11 hours), Cleveland (14 hours) and Chicago (21½ hours).
Boston Central Station is 42,351944-71,055278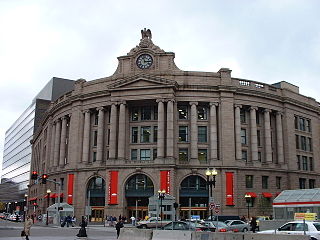 2 Boston South Station       , there you can change to the Red Line of the subway. All Amtrak trains and most suburban lines to South Station also stop at 42,3473-71,0755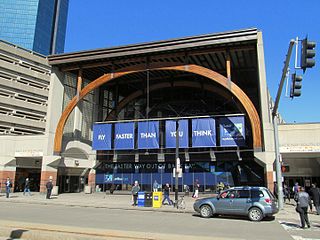 3 Back Bay Station       (transition to the orange line of the subway).
at 42,3663-71,06222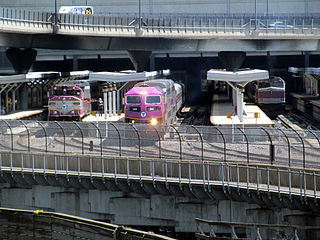 4 North Station       Downeaster connects Boston five times a day with the farthest northeast coastal regions of New Hampshire and Maine - the journey from Portland (Maine) takes 2½ hours.
By bus
Boston Deluxe,

175 Huntington Av

. Tel.:

+1 917-662-7552

.

Connection between Boston, New York and Hartford.
Fung Wah Transportation,

700 Atlantic Av. (South Station)

. Tel:

+1 617-338-8308

, e-mail: [email protected].

Connects Bostons Chinatown to New York's Chinatown (139 Canal St).

These "Chinatown buses" are exceptionally cheap (starting at $ 15), but have an adventure factor.

For example, the ticket does not guarantee the seat.
Greyhound Bus Lines,

700 Atlantic Av. (South Station)

. Tel:

+1 617 526 1800

.
Peter Pan Bus Lines,

700 Atlantic Av. (South Station)

. Tel:

+1 800-343-9999

.
On the street
From the south: Interstate 95 (also I-95) runs from New York, along the coast of Connecticut and Rhode Island to Boston.
From the north: The I-95 is also approaching Boston from the Canadian border via Bangor and Portland (Maine) and runs in a circle before proceeding towards New York.
West: The I-90 runs from Buffalo (New York), on the Canadian border through the state of New York to Boston.
By ship
5

Cruiseport of Boston (

Black Falcon Cruise Terminal

),

1 Black Falcon Ave, Boston, MA

.
mobility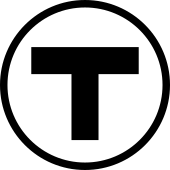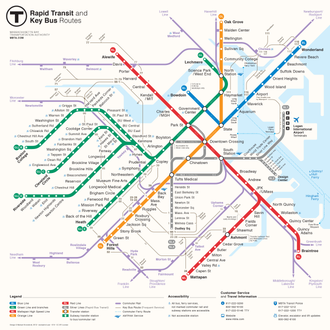 Boston is one of the few big cities in the United States to explore on foot. A red stripe on the pavement, the Freedom Trail, leads to the important historical sights. In addition, there is the metro (called "T" by the inhabitants of Boston) and a good bus network, which are operated by the MBTA.
There are two different types of tickets: The CharlieTicket (once usable only) and the CharlieCard (chargeable). The charterCard is cheaper than the ticket. The CharlieCard is only available at the info desk (not at the machine).
On the street
Unlike the rest of the US, Boston is a very unfriendly city for motorists. The city highways were moved underground during the Big Dig. There is very little parking in the city center, and if that is the case, parking fees are very high. The motorway to the airport is also subject to tolls. It is therefore best to take advantage of the well developed local transport or explore the city center on foot.
By bus
Boston has a dense bus network with regular departures. The journey costs $1.70 (CharlieCard), or $2 (CharlieTicket), no matter how long the journey is. The best way to buy the CharlieCard is at every T-station. This is a rechargeable card that you can just hold onto a driver's reader.
Part of the bus lines (Silver Line) is designed as a BRT (Bus Rapid Transit) system with its own lanes and tunnels, making them significantly faster than normal road traffic.
subway
The Boston Metro, officially called "T", runs through the city in all directions. It dates back to the early 1980s, and unfortunately you can see it. Unlike metro lines in Europe or Asia, there seems to have been no investment in further development since construction. The trains (like many subway lines in the USA) seem outdated and come down. They're very smuggling in places. The underground stations are dirty, accessible and inaccessible.
The lines are marked with colors ("Red Line", "Orange Line", etc.). Here you can also use the CharlieTicket or CharlieCard (see "buses"). The trip costs $2.25, or $2.75, no matter how long the journey is.
city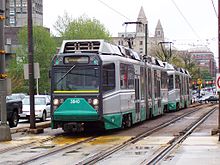 There is also the tram, which is known as the Green Line. All trams run between Lechmere and Copley in a tunnel under the city center (similar to several major cities in West Germany), then they divide into four different branches (B, C, D, E) and drive in the outlying districts above ground.
ferry
MBTA also operates four ferry lines in the Boston harbor area.
taxi
Taxi is available throughout the city, especially in the relevant places, such as the airport or near train stations. You can also use the private service providers Uber or Lyft. As is now the case throughout the United States, these are widely used and offer fares at a lower rate than taxi fares. Many drivers are still on their way to downtown late in the evening.
By bicycle
Boston is very bike friendly. There is a track on the streets reserved for cyclists only. Moreover, Boston is not particularly mountainous.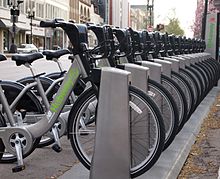 In addition to the usual bicycle rental possibilities, Boston with Hubway has a rental system with fixed locations for everyone (similar to the Call-a-Bike system in Germany). Here you need a credit card to make your booking at the machines, you pay $6 for 24 hours or $12 for three days and can use a bike for a maximum of 30 minutes anywhere within this time and return to each station. For longer usage at the piece, additional charges are added. This makes renting several hours (i.e. for bicycle tours outside the station area) unattractive. From 2 minutes after a successful return the next bike can be rented. Note: When used, a deposit of USD 101 per bicycle is blocked on the credit card! The station density is medium and the area covered includes Boston, Brookline, Cambridge and Somerville. At each station there is a road map with bike paths and all the stops so that you can plan longer tours of the city, including bike changes.
A credit card allows you to rent a maximum of two bicycles. So groups should have multiple credit cards.
Note: when returning at the station, make sure that the bike clicks correctly (first yellow, then green light and confirmatory tone), otherwise the bike is considered not to have been returned and it can be quite expensive. Sometimes it helps to lift the bicycle at the back.
sights
Visitors should buy the GoBoston Card, saving them a lot of money and possibly long waiting times. In particular, the Six Flags over New England amusement park in Springfield, worth its money!
Massachusetts Audubon Society

),

208 South Gread Rd, Lincoln

.

organization that manages 45 regional nature reserves.

Mass Audubon (
1

Lincoln Park Zoo,

1 Franklin Park Rd

.

One of the largest and most modern zoos in New England.

Parking.
Mapparium,

200 Massachusetts Ave

.

the world-famous three-story glass world ball, whose interior, where the countries of the world are represented, is open to visitors;

an absolute highlight.

The Mapparium is part of the Mary Baker Eddy Library, which is dedicated to the founder of Christian Science.
New England Aquarium,

Central Wharf

.

The most spectacular aquarium in this part of the country.

In the middle is a huge tank with thousands of fish.

Around the tank, stairs lead up to smaller aquariums.
New England Wild Flower Society's Garden in the Woods,

180 Hemenway Rd, Framingham

.

A little out of Boston, there is a remarkable botanical garden with 1,500 North American plants on a huge surface.

The garden is considered "one of the most beautiful places on earth".
2

Trinity Church,

206 Clarendon St, Copley Square

.

The church was completed in 1878 and is considered a masterpiece of American architecture.

The interior is very worth seeing.
Massachusetts State House,

24 Beacon St, Boston, MA 02133

(

Boston Common

).

The Massachusetts State House is the seat of the House of Representatives and the Massachusetts Senate.

It is open during the week from 12:00pm to 3:00pm.

Guided tours take place every hour and are free of charge.
Bunker Hill Monument,

Monument Sq, Charlestown, MA 02129, USA

. Tel:

+1 617-242-5641

.

On Breed's Hill is Monument Square with its 64-meter high, walk-in granite obelisk.

The Battle of Bunker Hill took place here in 1775.

The entrance is free, and the guided tour offers a lot to learn about the American War of Independence.

This monument also marks a starting point for the Freedom Trail.

In addition, there is a fantastic view from the top (unfortunately the plastic windows are completely scratched) of Boston.

Opened:

7 days from 09:30 to 17:00.

Price:

Admission free.
museums
Museums in Boston
3

Boston Tea Party Ships & Museum,

306 Congress St, Boston, MA 02210

.
Museum of African American History,

46 Joy St

.

African American History Museum.

Price:

Admission free.
4

Boston Children's Museum,

300 Congress St

.

Excellent children's museum.

No parking.
The Commonwealth Museum,

220 Morrissey Blvd

.

Museum on the history of Massachusetts.

Due to renovation, it is currently closed.
5

Museum of Fine Arts,

465 Huntington Ave

.

First class, large art museum.

Parking.

Admission Wednesday evening on a donation basis.
Isabella Stewart Gardner Museum,

280 The Fenway

.

Art Museum, one of the most remarkable collections in the world.

Works by Rembrandt, Titian, Raphael, Botticelli, Degas and Sargent.

No parking.
Historic New England,

141 Cambridge St

.

Historic Organization, under which various museums, exhibitions and collections are organized.
The Institute of Contemporary Art,

1000 Northern Ave

.

collection of modern art.

One of the few museums in Boston with parking facilities.
John F. Kennedy Presidential Library & Museum,

Columbia Point

. Inaugurated in 1979, John F. Kennedy Library houses the world's largest collection of original personal and presidential documents by John F.

Kennedy (1917-1963).

The associated museum offers an exhibition as well as film and multimedia presentations on the same topic.

Opened:

daily from 09:00 to 17:00.
66

Nichols House Museum,

55 Mount Vernon St

.

Historical home from the early 19th century, whose interior is decorated in the style of the late 19th century.
7

Old South Meeting House,

310 Washington St

.

The building where the Boston Tea Party began.
8

Old State House Museum,

206 Washington St

.

Historical Museum.
9

Paul Revere House,

19 North Square

.

The home of one of the most famous heroes of America's struggle for independence.
Museum of Science

).

There are quite different themes on display, such as mathematics, dinosaurs, space travel.

One of the largest Tesla generators is worth mentioning.

It regularly shows with huge lightning.

Science Museum (
Sports Museum,

TD Banknorth Garden

.

sports museum.

Parking.
USS Constitution Museum,

Building 22, Charlestown Navy Yard

.

Maritime Museum.

The wooden frigate USS Constitution is the second oldest preserved warship in the world.

Due to security controls, waiting times have to be calculated and it is essential to carry the identity card or passport.

The USS Cassin Young, a destroyer from the Second World War, was located nearby.

The Constitution Museum is attached.

Everything can be visited free of charge, but donations are requested.
Lightship LV-112.

This firefighter, with the exception of World War II, was serving the dangerous nano-socket benches from 1936-1983.

It is the largest U.S. fire ship ever built and can be visited in the Boston Harbor Shipyard and Marina.
Museum ships in Boston
something out
For museums in Cambridge see there. All the museums listed below offer parking, unless otherwise stated:
Concord Museum,

Cambridge Turnpike at Lexingon Rd, Concord

.

history museum
Davis Museum & Cultural Center,

Wellesley College, 106 Central St, Wellesley

.

Exquisite and award-winning art history museum.

Price:

Admission free.
10

DeCordova Museum and Sculpture Park,

51 Sandy Pond Rd, Lincoln

.

Art Museum with an important collection of modern art from New England.
Dedham Historical Society Museum,

612 High St, Dedham

.

Museum with a history and art exhibition.
11

Fuller Craft Museum,

455 Oak St, Brockton

.

Museum with an exhibition on arts and crafts.
12

Longyear Museum,

1125 Boylston St, Chestnut Hill

. Museum with an exhibition about Mary Baker Eddy, the well-known founder of Christian Science in the USA.

Price:

Admission free.
13

Louisa May Alcott Orchard House,

399 Lexington Rd, Concord

.

The home of Louisa May Alcott family, famous in the USA for her classic girl novel "Little Women".

The book was written in this house and its act is also located here.
14

The Lynn Museum & Historical Society,

590 Washington St, Lynn

.

Museum with an exhibition on the history of the local shoe industry.

No parking.
National Heritage Museum,

33 Marrett Rd, Lexington

.

Very worth seeing history museum.

Price:

Admission free.
15

The Newton History Museum at the Jackson Homestead,

527 Washington St, Newton

.

Regional History Museum with exhibitions on slavery, Abolitionism and the Underground Railroad.
16

The Old Manse,

269 Monument St, Concord

.

The house was built in 1769 and is famous for its relations with the writers Ralph Waldo Emerson, Nathaniel Hawthorne and Henry David Thoreau.
Spellman Museum of Stamps & Postal History,

235 Wellesley St, Weston

.

Museum with an exhibition on the history of postal services.
17

Stonehurst, The Robert Treat Paine Estate,

100 Robert Treat Paine Dr. Waltham

.

Impressive house from the late 19th century.
breweries
There are various breweries in Boston and in the surrounding area. Especially since the trend towards "microbreweries" many smaller breweries have been created. Some of them can also be visited during a tour. The most famous breweries in Boston are Samuel Adams and Harpoon Brewerie.
18

Harpoon Brewerie,

306 Northern Ave, Boston, MA 02210

. Tel:

+1 (617) 456-2322

.

Interesting tour with friendly guides.

In the tasting room you can try various beers.

entry:

$
activities
Boston Common: This beautiful and historic park was founded in 1634 and is one of the oldest parks in America. In winter, ice skating is possible on the frozen Frog Pond. Near the Tremont St opp Temple Place bus stop you will also find the Park Infocenter. You can reach the park by metro: Green Line via Boylston or Red Line via Park Street.
Boston Public: Beautiful park built in 1837 and open since 1859. In spring and summer, a trip with the Swan Boat is an invitation. Easy to reach by Green Line (Station: Arlington).
Port: If the weather is good, it is definitely worth a walk at the port! There are also relatively cheap harbor tours and Whale Watching! Tickets are available on-site or on the Internet at www.bostonharborcruises.com. The nearest T-stop is Aquarium (Blue Line).
Boston by Foot. Guided walks through Boston. Various tours and themes. For families with children aged 6-12, the program Boston By Little Feet is interesting. last amendment: no Type is group
sport
Boston is a city for sports fans, along with the famous Boston Marathon, which is the longest-running race after the Olympic Marathon, there are numerous sporting events in the city or its surroundings.
Baseball The Boston Red Sox are a major league baseball team, their home is the venerable Fenway Park. It's the oldest baseball stadium still in use. Because of its size, the stadium also hosts football matches and concerts. Even a snowboard contest has been organized here. address: 4 Yawkey Way, Boston, MA 02215,Phone: +1 877-733-7699
Ice hockey Boston is represented in the NHL by Boston Bruins. The games take place in the TD Garden. At the same time, the stadium also hosts the switches and waiting areas of the North Station of Boston. Address: 100 Legends Way, Phone: +1 617-624-1050
Basketball The Boston Celtcis are the most successful team in the American NBA. The Celtics games are also held at TD Gardens.
Rowing The Head of Charles Regatta is a rudder regatta on the Charles River. The more than 10,000 rowers will be fired by up to 400,000 spectators.
Soccer If you want to watch football in Boston, you have to go to Gilette Stadium in Foxborough, 22 miles away. There are the New England Revolution in the Major League Soccer. address: 1 Patriot Pl, Foxborough, MA 02035, United States, Tel: +1 508-543-8200
American Football In the same stadium the games of the NFL team New England Patroits take place.
other
United States District Court of Massachusetts,

1 Courthouse Way Boston, Massachusetts 02210

. Tel:

+1 (617) 748-9152

.

This is the Massachusetts Federal Court, the highest court in the state.

All federal crimes will be dealt with there, as well as civil actions under federal law.

The negotiations are (mostly) public and anyone who speaks English well can follow them, often interesting criminal cases (drug smuggling, etc.) are being dealt with.

An interesting insight into the US legal system.

Opened:

Mon-Fri 08:30 - 17:00.
purchase
Downtown Crossing: Very lively place with many shops in downtown Boston and close to Boston Common. Red Line and Orange Line stop directly Downtown Crossing.
Newbury Street: A shopping street over 2 mi long, accessible via the Green Line (Arlington, Copley or Hynes). There are many boutiques, electrical shops, restaurants, pubs, etc. The Boston Common is very expensive, but the farther you approach the Massachusetts Avenue, the cheaper it will be. What amount of shops you can find is what Newbury-st.com tells you.
Quincy Market. The place for souvenirs, food and shopping! Simply take the Green Line or Blue Line to Government Center or the Orange Line or Blue Line to State.
CambridgeSide Galleria,

100 CambridgeSide Place

. Tel:

+1 617-621-8666

. Shopping mall with souvenir stalls, many shoe shops, food, etc. The building is a few minutes walk from the Lechmere T-stop (Green Line). There is also a free shuttle service from Kendall Square (Red Line).
Wrentham Village Premium Outlet,

1 Premium Outlet Blvd, Wrentham, MA 02093

. Tel:

+1 (508) 384-0600

.

The Wrentham Village Premium Outlet is a large outlet about 35 miles south of Boston.

There are many brands (Tommy Hildler, Ralph Lauren, Lacoste) at very low prices.

Parking spaces are abundant (typically USA).

Opened:

7 days, 10 a.m. to 9 p.m.
1

Macy's,

450 Washington Street Boston, MA 02111

(

Downtown Crossing

). Tel:

+1 (617) 357-3000

.

Macy's is a nationwide known chain of department stores that only sells brand clothing and jewelry (roughly comparable to "Galeria Kaufhof" in Germany).

However, branded clothing is often reduced.

Opened:

7 days, 9 - 21.
kitchen
Boston has almost everything to eat. There are also many good seafood restaurants, close to the port. A well-known dish in New England is Clam Chowder: A shellfish soup served either in a dish or in white bread (in shell). New England is also known for its lobster. Nowhere is lobster as (relatively) cheap as here. The so-called "Lobster Roll" is a sandwich filled with lobster meat. A Lobster Roll costs between $25 and $30. This seems expensive at first, but lobster is much more expensive in other parts of the world. If you're a fan of Italian food, don't hesitate to visit the North End! For Asian cuisine of course in Boston/Chinatown.
nightlife
Boston is not necessarily famous for its nightlife. As is often the case in the USA, most bars and clubs close at about 2 a.m. There is no central pub district in downtown, like in other cities. The bars, pubs and clubs are scattered throughout the city. There are many jazz bars where live music is played. They are located mainly in Cambridge. Due to its rich Irish heritage, there are many Irish pubs in Boston.
Doyle's Cafe, Washington Street (Jamaica Plain).

An Irish beer bar.
J.J. Foley's,

Downtown Crossing

.

An Irish beer bar in the "Downtown" neighborhood.
Kitty O'Shea's Irish Pub and Bistro,

131 State St

. Tel.:

+1 617-725-0100

, e-mail: [email protected].

Opened:

11.30 - 2.00
The Black Rose,

Fanueil Hall Marketplace

.

A popular pub with locals and tourists.
1

Fire and Ice,

205 Berkeley St

. Tel.:

+1 617-482-FIRE

(3473).

Great location with exceptional drinks and appetizers or a fabulous grill restaurant on the upper floor.
Pink,

13 Lansdowne St

. Tel.:

+1 617-417-0186

.

Pink is a club for lesbians.
The Green Dragon Tavern,

11 Marshall Street

. Tel:

+1 (617) 367 0055

.

A nice bar to rest after the "Freedom Trail" or to relax after work.

The Green Dragon opened its doors for the first time in 1657 in the historic Blackstone Quarter of Boston.

The tavern was a meeting place for the Sons of Liberty, where they planned the political revolution and spy on British officers present.

The "Green Dragon Tavern" was rebuilt as the "headquarters of the revolution" after a big fire.

Here you will find live music and nice food in an Irish pub atmosphere.

decent prices.

Two people with drinks come to around $ 25-30.
Sissy K's,

4 Commercial Street, Boston, MA 02109, USA

. Tel:

+1 617-248-6511

.

The Sissy K's consists of two stories.

Below is a bar/lounge, while on the upper floor there is a small club that plays mainly Black/HipHop.

The ambiance is more relaxed, with many younger guests.

Opened:

7 days a week until 2 a.m.

Price:

about $15.
Cheers Beacon Hill,

84 Beacon Street

. Tel:

+1 617 227 9605

.

The Cheers is known for its TV-Sitcom Cheers.

Cozy, cheap pub specializing in burgers.

There are other branches in the city.

Opened:

11.00 - 2.00
accommodation
Best Western Roundhouse Suites,

891 Massachusetts Avenue

. Tel:

+1 617 989-1000

,

+1 888 468-3562

(toll-free), Fax:

+1 617 541-9588

.
1

Best Western Terrace Inn,

1650 Commonwealth Avenue

. Tel:

+1 617 566-6260

,

+1 800 242-8377

(toll-free), Fax:

+1 617 731-3543

.
Best Western The Inn at Longwood Medical,

342 Longwood Avenue

. Tel:

+1 617 731-4700

,

+1 800 468-2378

(toll-free), Fax:

+1 617 731-4870

.
Holiday Inn,

225 Mcclellan Highway

. Tel:

+1 617 569 5250

.
2

Holiday Inn Express,

69 Boston Street

. Tel:

+1 617 288 3030

.
Holiday Inn Select,

5 Blossom St At Cambridge St

. Tel.:

+1 617 742 7630

.
3

Residence Inn Boston Harbor on Tudor Wharf,

34-44 Charles River Avenue

. Tel:

+1 617 242 9000

,

+1 866 296 2297

(toll-free), Fax:

+1 617 242 5554

.
Beacon Hill Hotel and Bistro,

25 Charles Street

. Tel:

+1 617 723 7525

.
walking
4

Four Seasons,

200 Boylston St

. Tel.:

+1 617-338-4400

, Fax:

+1 617-423-0154

.
5

Omni Parker House Hotel,

60 School St

. Tel.:

+1 617-227-8600

, Fax:

+1 617-742-5729

.
6

Nine Zero,

90 Tremont St

. Tel.:

+1 617-772-5800

, Fax:

+1 617-772-5810

.
Ritz-Carlton,

15 Arlington St

. Tel.:

+1 617-536-5700

, Fax:

+1 617-536-1335

.
7

Marriott's Custom House, A Marriott Vacation Club Resort,

3 McKinley Square

. Tel:

+1 617 310-6300

, Fax:

+1 617 310 6301

.
Courtyard Boston Copley Square,

88 Exeter Street

. Tel:

+1 617 437-9300

, Fax:

+1 617 437 9330

.
Courtyard Boston Tremont Hotel,

275 Tremont Street

. Tel:

+1 617 426-1400

, Fax:

+1 617 482 6730

.
Courtyard by Marriott South Boston,

63 R Boston Street

. Tel:

+1 617 436-8200

, Fax:

+1 617 436-0866

.
8

Boston Marriott Copley Place,

110 Huntington Avenue

. Tel:

+1 617 236 5800

, Fax:

+1 617 236 5885

.
9

Boston Marriott Long Wharf,

296 State Street

. Tel:

+1 617 227 0800

, Fax:

+1 617 227 2867

.
10

New Ritz-Carlton,

10 Avery St

. Tel.:

+1 617-574-7100

, Fax:

+1 617 574 7200

.
11

Hyatt Regency,

1 Avenue de Lafayette

. Tel:

+1 617 912 1234

, Fax:

+1 617 451 2198

.
12

XV Beacon,

15 Beacon Street

. Tel:

+1-877-982-3226

.

Price:

$300 - $1,900.
learning
Boston Architectural Center
Massachusetts College of Art
Massachusetts College of Pharmacy and Health Sciences
New England Conservatory of Music
New England School of Law
School of the Museum of Fine Arts
University of Massachusetts Boston
Wentworth Institute of Technology
work
safety
The crime rate in Boston is low compared to other American metropolises. In the southern part of the city, there are less safe neighborhoods like Roxbury and Dorchester, but tourists are unlikely to get lost.
health
Practical information
Bostonians are usually very friendly and are happy to help tourists. In that sense, there is no fear and ask a passerby if, for example, you do not know how to get where!
It is unusual to wait as a pedestrian at the traffic lights. If you don't have a car, or if the cars are just a few meters from the traffic lights, you just go red.
When you call a port, you must dial the area code and the seven-digit number. If you need the telephone information, you can reach it under "411".
gallery
excursions
Route proposal Two weeks New England
Route proposal Highlights USA
in just a few minutes by metro or bus to Cambridge. *Harvard University (Cambridge, Massachussetts 02138, with T: Red Line, Harvard station): Harvard University is the oldest university in the United States and one of the most important universities in the world. The red brick campus is open to everyone. Guided tours are also available free of charge. Management times are always published on the website [1].
Six Flags New England amusement park in Springfield
Plymouth (40 miles south-east direction / 1h journey time): Plymouth is the place where the Mayflower landed. It is one of the oldest places in the USA. Plymouth has a very well preserved town center, as well as a reproduction of the Mayflower, Plymouth Rock, and an open-air museum.
Portland (112 miles north, approximately 2h): The largest city in the state of Maine has a beautiful downtown, interesting museums and a busy fishing port.